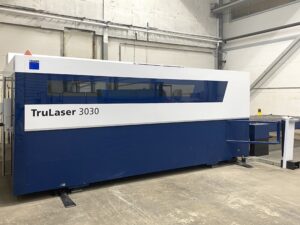 With our new fiber laser machine, 4 kW TRUMPF Trulaser 3030, we can produce our steel structure more comprehensively, with faster delivery times, from our own workshop. In addition to our own production, we subcontract disc clips to other operator, either from our own extensive disc warehouse or cut from the customer's materials.
The cutting power of the machine reaches at least 25mm for black steel and up to 20mm for RST, HST and aluminum. Maximum dimensions of the plate to be machined: 1500x3000mm. Brass, copper and galvanized material can also be processed with fiber lasers.
In addition to the most conventional steel cuts, our laser is also able to cut precise perforated plate patterns on various sheet metal materials.
More information from our sales.