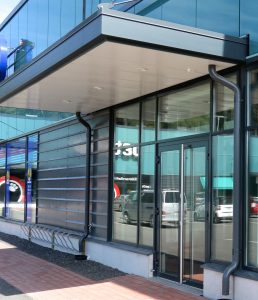 We have a wide network of glass façade, door and window suppliers that support TPE's other deliveries in a natural way.
The energy efficiency and environmental impact of the construction products are important factors when choosing the structures. Sapa 2086 system represents the next generation of construction solutions. The energy efficient construction system has the benefits of excellent insulation capability, and good sound proofing, air proofing and water proofing, and comprehensive transforming potentials.
Aluminum structures allow the creation of versatile and functional façades.
By our product suppliers and own installations we are able to provide a wide range of different door, window and glass façade solutions:
Thermal insulated front doors
Uninsulated communicating doors
Fire resistance partition doors EI30, E60 and EI60
Break protection doors
Inside and outside opening windows
Terrace sliding doors
CE marked glass façade walls
Glass ceilings
More information from our Sales.