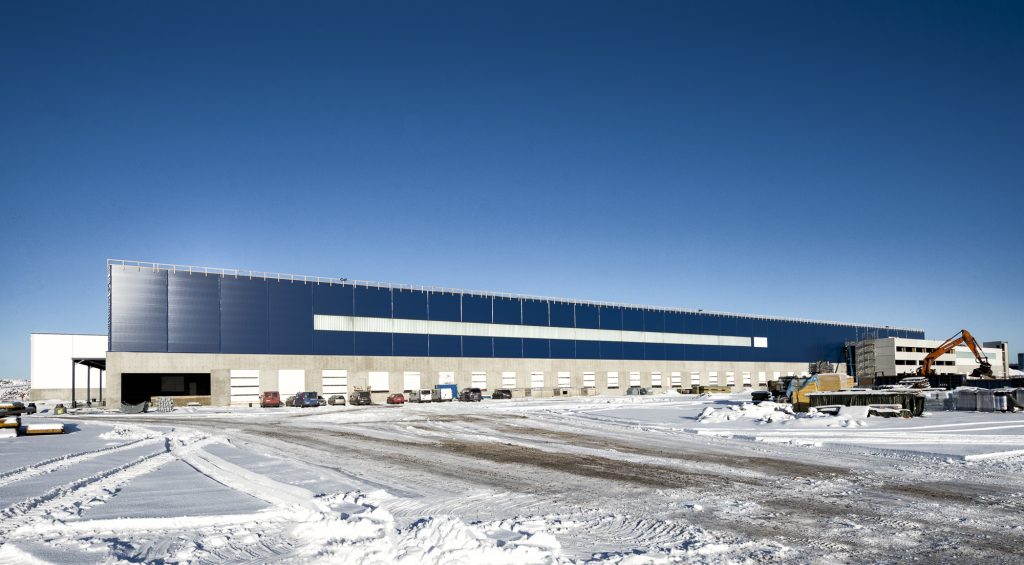 TPE Spirit panel is an excellent high quality stonewool sandwichpanel that can be used when the frame span is long, and the product enables wall structure with ready made inner and outer surfaces. The product's thermal insulation, sound proofing features and fire resistance (min EI120) make Spirit Panel an excellent product for all construction building.
Typical uses are industrial sites and office buildings, sports arenas, power plants and variety of warehouse types.  Besides outside walls the element is also suitable for fire resistant partition walls. If necessary, we can provide element blueprints for the customer's own project and we have several alternative surface variations and colors are available.
TPE Spirit Panel is produced at the Somero manufacturing plant in Finland with perfect logistics connections throughout the Nordic countries. For more information about the element and the delivery possibilities please contact our element sales.

| | THICKNESS(mm) | WEIGHT (kg/m2) | FIRE RESISTANCE | U-VALUE (W/m2) | WIDTH | LENGHT (mm) |
| --- | --- | --- | --- | --- | --- | --- |
| TSP 100 RW | 100 | ~20 | EI120 | 0,38 | 1200 | 901 – 12 000 |
| TSP 120 RW | 120 | ~22 | EI120 | 0,31 | 1200 | 901 – 12 000 |
| TSP 150 RW | 150 | ~25 | EI120 | 0,26 | 1200 | 901 – 12 000 |
| TSP 175 RW | 175 | ~28 | EI120 | 0,22 | 1200 | 901 – 12 000 |
| TSP 200 RW | 200 | ~31 | EI120 | 0,20 | 1200 | 901 – 12 000 |
| TSP 240 RW | 240 | ~35 | EI240 | 0,16 | 1200 | 901 – 12 000 |
| TSP 300 RW | 300 | ~41 | EI240 | 0,13 | 1200 | 901 – 12 000 |